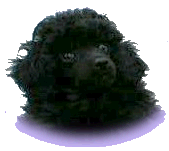 Located in sunny Southwest Florida near Fort Myers. We started breeding dogs over 20 years ago, starting in German Shepherd Dogs having quite a few Champions and Obedience titles along the way.

We started in Toy Poodles quite by accident, when friend rescued a Toy Poodle but wasn't interested in keeping him. We gladly took this little apricot fellow in, named him Truffle, and he quickly won our hearts. When he met with an untimely death after only a couple of years, We got our 2nd Toy Poodle in 2000, this one from a rescue in St Pete. Our incorrigable Ripley was just that. A one person dog, and that one person was my husband. He had no use for me. Ripley was an ornery little curmudgeon, but boy was he cute and playful.

Being jealous of my husband who had this ornery Ripley, who had no use for me, I had to have my own Poodle. One who I could spoil and love since Ripley only had eyes for my husband. Since my love was the show ring, I wanted a Poodle that I could show and finish her championship. This led me to acquire my foundation bitch Fizzi from Gloria Catalino in Idaho in 2002. It's a decision I've never regretted. Fizzi was everything I could have hoped for and more. From there our little Poodle family grew and we currently have between 6 to 8 at any given time. Because our dogs are house dogs I wanted to keep our little pack small enough to give each the attention they deserve. Sadly Fizzi passed away 2 years ago, and Ripley in April 2016

Toy Poodles are the most sweet natured, loyal, loving breed, not to mention smart! While they may require a bit more grooming than other breeds we consider that to be a small price to pay to have the privilege to have them in our lives. If you've never had one own you, are you ever in for a treat should you decide to bring one into your life. One thing is for sure you'll never be the same once you give your heart to a precious Poodle!
We have finished 13 Toy Poodle Champions, 12 of them home bred, and have some currently in the ring being shown. While I love the obedience ring and try to work the dogs as much as possible, family constraints don't allow much show activity these days.
All of our dogs have had all the necessary health testing done before they are ever bred. We check Patellas, eyes, hips. Some testings we use are OFA, Optigen and Cerf.

Our Toys are all our house pets and companions, and sleep with us at night. Our litters are all raised in the house, where they get exposed to all types of household noises and visitors.
Our puppies are well socialized and taken many places by car, and we crate train puppies and get them used to being on a leash to help make the transition to their new home easier for them. They are well on their way to being houstrained by the time they go to their forever homes.

All puppies come with a written contract with a requirement that if you can no longer keep your dog at any time for whatever reason, they come back to us. Our babies are too special to just go anywhere and we will do our best to make sure they never see the inside of a shelter, puppy mill rescue or lab. Puppies also come with a Contract, Veterinarian health certificate, all shots and wormings up to date, Microchip, collar, leash, toy, dog food, 4 generation pedigree, color photos of the parents and lots of info on raising and training. We are here for the life of your puppy should you need guidance in raising them. We are happy to supply references and ask that you do the same should you be interested in one of our special babies.